---
Page Content
Classification

Gallery

Region

Group

Taxa, synonyms

Bibliography

Figures

Collection
---
Coptops aedificator
Coptops aedificator is the scientific name of a group of Lamiinae -also called lamiines or flat-faced longhorned beetles-
---
Coptops (Coptops) aedificator (Fabricius, 1793)
J.C. Fabricius is the author of the original taxon.
The type specimen used for original description comes from () World.
Coptops (Coptops) aedificator (Fabricius, 1793) is the full name of the group-species in the taxonomic classification system.
The species is combined with the Coptops genus ranked in the Mesosini tribe of Lamiinae.
---
Some pictures exposed in gallery


…
Some pictures exposed in gallery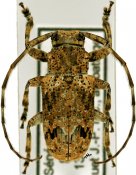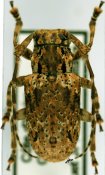 ---
---
Region
Distribution for Coptops aedificator
---
---
9 taxa refer to Coptops aedificator
---
---
Some citations found in the bibliography excluding lists and catalogs except with nomenclatural act or illustration or data
---
---
Some references with pictures to see in bibliography
---
---
77 specimens in author's collection
Datas on labels
Cameroon • Ufon • 3♂2♀ • 18-18.5 mm • ii-1993 • lam.#2429, 2430, 2431, 2432, 2433
Central Africa R. • Bangui-Bimbo, 300m • 1♀ • iv-1980 • lam.#417
Central Africa R. • Bangui, Forêt de Bimbo • 3♂ • xi-1985 • lam.#2876, 2877, 2878
Djibouti • Ft du Day • 5♂4♀ • 18-20.5 mm • viii-1988, viii-1989 • lam.#2518, 2519, 2520, 2532, 2533, 2534, 2535, 7871, 7872
Gabon • Parc National Ivindo, Ipassa • 1♀ • 14 mm • xi-2017 • lam.#19830
Gabon • Province de l'Estuaire, Akanda, Issingou village proche Mondah • 1♂5♀ • 14-16 mm • xii-2019 • lam.#21433, 21434, 21435, 21436, 21437, 21438
Gabon • Province de l'Estuaire, Forêt de la Mondah • 6♂7♀ • 12-17 mm • xi-2017, xii-2017 • lam.#19821, 19822, 19823, 19824, 19825, 19826, 19827, 19828, 19829, 19831, 19832, 19930, 19931
Gabon • Province de l'Estuaire, PN des Monts de Cristal, Station de Kinguélé • 1♂ • 13.5 mm • xi-2019 • lam.#21432
Ivory Coast • Adiopodoumé • 1♂ • 15 mm • xi-1999 • lam.#11907
Ivory Coast • Akoupé • 1♀ • i-1990 • lam.#1323
Ivory Coast • Grand Lahou • 1♀ • 13.5 mm • xi-1996 • lam.#2906
Kenya • env. Diani, 2-7km S-SO. carrefour Ukunda • 2♂1♀ • 12.5-13 mm • vii-2007 • lam.#9695, 9696, 9697
Kenya • env. Diani, 6km S-SO. carrefour Ukunda • 2♂2♀ • 10.5-16 mm • viii-2009 • lam.#12397, 12398, 12399, 12400
R. D. Congo • Katanga, Zilo • 1♀ • iii-1980 • lam.#590
R. P. Congo • Voka • 1♂1♀ • v-1993 • lam.#7874, 7875
Senegal • Petite Côte, forêt de Bandia • 4♂8♀ • 13.5-14 mm • viii-2008 • lam.#10479, 10480, 10481, 10482, 10559, 10560, 10898, 10929, 10987, 10988, 10989, 10990
Senegal • Petite Côte, Mbour • 1♀ • viii-2008 • lam.#11053
Senegal • Petite Côte, Nianing • 9♂2♀ • viii-2008 • lam.#10430, 10431, 10883, 10916, 10917, 10979, 10980, 10981, 10982, 11065, 11066
Tanzania • Iringa, Mafinga • 1♀ • i-1994 • lam.#7873
---