---
Page Content
Author

Copyright

Links

Contact
---
About this website
lamiinae.org is present on Web for 18 years
---
Lamiaires du Monde

, Lamiines of the World

The website focuses exclusively on Lamiinae also called lamiines or flat-faced longhorned beetles.

Lamiaires du Monde is the french name of the original version, and Lamiines of the World, its translation.

It is the result of the author's work over the past 26 years to build an IT solution, update the database, enrich the content of pages and improve the services provided.
---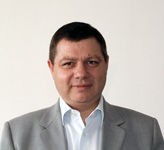 Jean-Philippe Roguet, 62 years old, architect of information system and their IT solutions, living near Paris, interested in entomology for 46 years, the last 34 years dedicated to the group of flat-faced longhorned beetles.
At first I created the entomological database management system in 1996 to compile a comprehensive catalog of Lamiines. The graph theory inspired me algorithms to build the tree of the valid group combinations, to infer systematic catalog and faunistic catalogs from nomenclatural events and other information (e.g. localities) found in the bibliography.
Then I created the website in 2004 to share the results of this heavy work. Pages and services are based on some of tools developed to support my operational activities related to collection and bibliography, of course to search for information but also to prepare entomological expeditions, facilitate determination with bestiaries, implemented keys or even derived in regional subkeys.
I designed templates of pages and developed apps with PHP, MYSQL, HTML, CSS and Javascript.
To photograph and illustrate the website, I use Nikon D7500 on reproduction stand, AF Micro-Nikkor 60mm f / 2.8, Helicon software, Photoshop software and some PHP modules to generate and integrate the images.
My permanent concern is the continuous enrichment of the website to constitute a useful and pleasant reference for all the visitors.
---
---
© 2004-2022 all rights reserved
All rights are reserved.
Of course, it is possible for any site to link to any page of lamiinae.org or for any publication to cite a website resource without express permission.
I use my initials to sign the photos of flat-faced longhorned beetles.
For any question about rights of reproduction and use, contact me !
Please do not use from Pinterest the photos looted in the gallery. Their sources are not even mentioned. They were copied illegally by unscrupulous people and disrespected for hundreds of hours of work that were needed to produce them.
Thank you to respect work. For example with photos, each illustration required to
obtain entomological material
prepare meticulously the specimens
take several shots of the most representative one and combine the stack into focused image with Helicon software
edit images with Photoshop
integrate images in gallery and publish the pictured pages online
The agreement to reproduce some photos has been given to
Larry G. Bezark for his website A Photographic Catalog of the CERAMBYCIDAE of the World
Eugenio H. Nearns for his website cerambycids.com
Eric Jiroux for Les Cahiers Magellanes
---
---
There are many websites on longhorned beetles today.
The links page named Cerambycoidea ring (www.cerambycoidea.com) lists most of them.
For example, some representative websites on their perimeter
---
---
Contact
for any questions, remarks or suggestions
---
---
---