---
Page Content
Classification

Gallery

Region

Group

Taxa, synonyms

Bibliography

Figures

Collection
---
Phryneta spinator
Phryneta spinator is the scientific name of a group of Lamiinae -also called lamiines or flat-faced longhorned beetles-
---
Phryneta spinator (Fabricius, 1793)
J.C. Fabricius is the author of the original taxon.
The type specimen used for original description comes from South Africa, Cap.
Phryneta spinator (Fabricius, 1793) is the full name of the group-species in the taxonomic classification system.
The species is combined with the Phryneta genus ranked in the Phrynetini tribe of Lamiinae.
---
Classification
kingdom
Animalia
~1,200,000 sp.
phylum
Arthropoda
~1,000,000 sp.
class
Insecta
~830,000 sp.
order
Coleoptera
~350,000 sp.
family
Cerambycidae
~35,000 sp.
subfamily
Lamiinae
20,008 sp.
tribe
Phrynetini
65 sp.
genus
Phryneta
29 sp.
species
spinator
---
---
Some pictures exposed in gallery

…
Some pictures exposed in gallery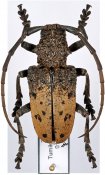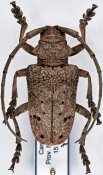 ---
---
Region
Distribution for Phryneta spinator
---
---
6 taxa refer to Phryneta spinator
---
---
Some citations found in the bibliography excluding lists and catalogs except with nomenclatural act or illustration or data
---
---
Some references with pictures to see in bibliography
---
---
25 specimens in author's collection
Datas on labels
Cameroon • 40km N Yaoundé • 1♀ • 27.5 mm • v-1998 • lam.#12175
Cameroon • Prov. Nord-Ouest • 1♂ • 26.5 mm • xi-1998 • lam.#12177
Central Africa R. • Bangui • 1♂1♀ • 25-28 mm • i-1977, iv-1977 • lam.#2500, 12188
Central Africa R. • Bangui-Bimbo, 300m • 3♂1♀ • 23-32 mm • iv-1980, v-1981 • lam.#389, 390, 393, 394
Ethiopia • Dembi, Illubabor • 1♂ • 22.5 mm • viii-1994 • lam.#1328
Ivory Coast • Abidjan • 4♂6♀ • 24-27.5 mm • iv-2008 • lam.#12163, 12164, 12165, 12166, 12167, 12168, 12169, 12170, 12171, 12172
Ivory Coast • Sud • 1♂ • 21 mm • xii-1998 • lam.#3384
R. D. Congo • Tumikia, Bandudu • 1♂ • 28 mm • v-1989 • lam.#3481
South Africa • Natal, Sodwana Bay • 1♂1♀ • 25-29 mm • i-1988 • lam.#1566, 1567
Togo • Atakpame • 1lam. • 27 mm • v-1990 • lam.#2499
Zambia • Kabwe • 1♂ • 25 mm • xii-2001 • lam.#13097
---