---
Page Content
Classification

Gallery

Region

Group

Taxa, synonyms

Bibliography

Figures
---
Neobaryssinus altissimus
Neobaryssinus altissimus is the scientific name of a group of Lamiinae -also called lamiines or flat-faced longhorned beetles-
---
Neobaryssinus altissimus Berkov & Monné, 2010
Berkov A. & Monné M. A. are the authors of the original taxon.
The type specimen used for original description comes from French Guiana.
Neobaryssinus altissimus Berkov & Monné, 2010 is the full name of the group-species in the taxonomic classification system.
The species is combined with the Neobaryssinus genus ranked in the Acanthocinini tribe of Lamiinae.
---
Coleoptera
Cerambycidae
altissimus
kingdom
Animalia
~1,200,000 sp.
phylum
Arthropoda
~1,000,000 sp.
class
Insecta
~830,000 sp.
order
Coleoptera
~350,000 sp.
family
Cerambycidae
~40,000 sp.
subfamily
Lamiinae
19,923 sp.
tribe
Acanthocinini
1,962 sp.
genus
Neobaryssinus
5 sp.
species
altissimus
---
---
Some pictures exposed in gallery
Some pictures exposed in gallery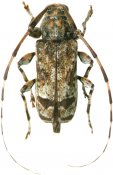 ---
---
Region
Distribution for Neobaryssinus altissimus
---
---
1 taxon refers to Neobaryssinus altissimus
Neobaryssinus altissimus Berkov & Monné, 2010

[ type locality : French Guiana, Les Eaux Claires (7 km N Saül, 3° 37' N, 53° 12' W, elevation 200–400 m) ]
---
---
Bibliography
Some citations found in the bibliography excluding lists and catalogs except with nomenclatural act or illustration or data
Neobaryssinus altissimus ; Morvan & Roguet • Suppl. Bull. Liais. ACOREP-Fr. • 2013 • 7 : 8 [ cit loc ill ]

Neobaryssinus altissimus ; Morvan & Roguet • Suppl. Bull. Liais. ACOREP-Fr. • 2013 • 7 : 8 [ cit loc ill ]

General information

Distribution, location

French Guiana : Les Eaux Claires
Guyane

Neobaryssinus altissimus Berkov & Monné • Zootaxa • 2010 • 2538 : 49 [ nov loc plh ill div ]

Neobaryssinus altissimus Berkov & Monné • Zootaxa • 2010 • 2538 : 49 [ nov loc plh ill div ]

General information

description ; distinctive characters ; remark
color photo, ♀ ; ...
host plant

Distribution, location

[locality type] French Guiana : Les Eaux Claires (7 km N Saül, 3° 37' N, 53° 12' W, elevation 200–400 m)
French Guiana : Les Eaux Claires, 180–860 m along the Sentier Botanique ; Piste de Kaw, pk 43.5 ; pk 50 ; Piste Maman Lézard, pk 7 ; Crique Longi
---
---
Some references with pictures to see in bibliography
---