---
Page Content
Classification

Region

Group

Gallery

List of species

Taxa, synonyms

Bibliography
---
Anisocerus
Anisocerus is the scientific name of a group of Lamiinae -also called lamiines or flat-faced longhorned beetles-
---
Anisocerus Lacordaire, 1830
J.T. Lacordaire is the author of the original taxon.
The type species is Anisocerus penicillatus Lacordaire, 1830.
Anisocerus Lacordaire, 1830 is the full name of the group-genus in the taxonomic classification system.
Anisocerus has 2 species. The genus is ranked in the Anisocerini tribe of Lamiinae.
---
Classification
kingdom
Animalia
~1,200,000 sp.
phylum
Arthropoda
~1,000,000 sp.
class
Insecta
~830,000 sp.
order
Coleoptera
~350,000 sp.
family
Cerambycidae
~35,000 sp.
subfamily
Lamiinae
20,056 sp.
tribe
Anisocerini
86 sp.
genus
Anisocerus
2 sp.
---
---
Region
Distribution for species of Anisocerus
---
---
Group
Anisocerus
Subgroup of
Subdivided into 2 species
---
---
Last images posted online


…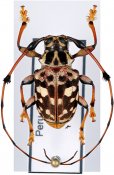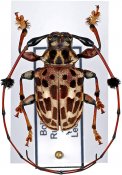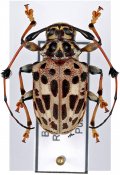 nop=0
---
---
List of species
2 species
Anisocerus scopifer (Germar, 1824)

Argentina, Misiones, Dos de Mayo • 1♀ • xii-1979 • lam.#22

Brasil, Espírito Santo, Linhares • 1♂ • 13 mm • iii-1975 • lam.#13181

Brasil, Rio de Janeiro, Corcovado • 1♀ • 15.5 mm • iii-1978 • lam.#13182

Brasil, Santa Catarina • 2♀ • i-1980 • lam.#20, 21

datas on labels of lamiines in author's collection

Anisocerus stellatus Guerin, 1855

Bolivie, Beni, Rurrenabaque • 1♂5♀ • 15.5-16 mm • ix-1998, xi-2000 • lam.#7372, 7373, 7374, 7375, 8738, 8739

Pérou, Iquitos, Loreto • 1♂1♀ • 14-15 mm • xii-2009 • lam.#13561, 13562

Pérou, Tingo Maria • 1♂1♀ • ix-1984 • lam.#2863, 2864

Peru, Loreto, Iquitos • 1♂ • 13.5 mm • xi-2002 • lam.#7377

Peru, Loreto, Puerto Almadeus • 1♀ • 13.5 mm • x-2002 • lam.#7376

datas on labels of lamiines in author's collection
---
---
2 taxa refer to Anisocerus
---
---
Some citations found in the bibliography excluding lists and catalogs except with nomenclatural act or image or data
---