---
Page Content
Classification

Gallery

Region

Group

Taxa, synonyms

Bibliography

Figures

Collection
---
Adetus lherminieri
Adetus lherminieri is the scientific name of a group of Lamiinae -also called lamiines or flat-faced longhorned beetles-
---
Adetus lherminieri Fleutiaux & Salle, 1889
Fleutiaux, E. & Salle, A. is the author of the original taxon.
The type specimen used for original description comes from Guadeloupe, Basse-Terre I..
Adetus lherminieri Fleutiaux & Salle, 1889 is the full name of the group-species in the taxonomic classification system.
The species is combined with the Adetus genus ranked in the Apomecynini tribe of Lamiinae.
---
Classification
kingdom
Animalia
~1,200,000 sp.
phylum
Arthropoda
~1,000,000 sp.
class
Insecta
~830,000 sp.
order
Coleoptera
~350,000 sp.
family
Cerambycidae
~35,000 sp.
subfamily
Lamiinae
20,009 sp.
tribe
Apomecynini
1,804 sp.
genus
Adetus
83 sp.
species
lherminieri
---
---
Some pictures exposed in gallery
Some pictures exposed in gallery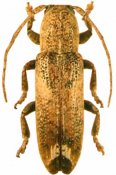 ---
---
Region
Distribution for Adetus lherminieri
---
---
4 taxa refer to Adetus lherminieri
---
---
Some citations found in the bibliography excluding lists and catalogs except with nomenclatural act or illustration or data
---
---
Some references with pictures to see in bibliography
---
---
50 specimens in author's collection
Datas on labels
Guadeloupe • Basse-Terre I., Deshaies, Lahaut, Morne Bois d'Inde • 1♂2♀ • v-1995 • lam.#1920, 1921, 1922
Guadeloupe • Basse-Terre I., Deshaies, Morne Caféière • 1♀ • v-1995 • lam.#1993
Guadeloupe • Basse-Terre I., Deshaies, Morne Mazeau • 1♂ • vii-1999 • lam.#3654
Guadeloupe • Basse-Terre I., Matouba • 1♂ • v-1995 • lam.#1923
Guadeloupe • Basse-Terre I., Plage de Sainte Claire • 2♂1♀ • v-1995 • lam.#1961, 1962, 2000
Guadeloupe • Basse-Terre I., Plage du Roseau • 1♂ • v-1995 • lam.#1979
Guadeloupe • Basse-Terre I., Sofaïa • 2♂ • vii-1999 • lam.#4406, 4408
Martinique • Diamant, plage O'Mullane (mangrove) • 1♂1♀ • v-2002 • lam.#5333, 5334
Martinique • Fonds-Saint-Denis, rivière Bleue, alt. 300m • 1♂ • vii-2000 • lam.#4256
Martinique • Le Carbet, Petit-Piton, vers 350m • 12♂12♀ • 6.5 mm • vii-2000 • lam.#4208, 4224, 4252, 4254, 4261, 4262, 4272, 4479, 4480, 4481, 4482, 4483, 4484, 4486, 4487, 4488, 4489, 4490, 4491, 4492, 4493, 4494, 4495, 4496
Martinique • Macouba, Cheneaux • 3♀ • iv-2002 • lam.#5330, 5331, 5332
Martinique • Morne Vert, Caplet, vers 350m • 1♂ • vii-2000 • lam.#4497
Martinique • Sainte Marie, Fond-Saint-Jacques, D23 • 5♂1♀ • iv-2002 • lam.#5324, 5325, 5326, 5327, 5328, 5329
St. Vincent • Argyle Beach • 1♀ • i-2005 • lam.#7678
---