---
Page Content
Classification

Gallery

Region

Group

Taxa, synonyms

Bibliography

Figures

Collection
---
Aristobia freneyi
Aristobia freneyi is the scientific name of a group of Lamiinae -also called lamiines or flat-faced longhorned beetles-
---
Aristobia freneyi Schmitt, 1992
O. Schmitt is the author of the original taxon.
The type specimen used for original description comes from Thailand.
Aristobia freneyi Schmitt, 1992 is the full name of the group-species in the taxonomic classification system.
The species is combined with the Aristobia genus ranked in the Lamiini tribe of Lamiinae.
---
Some pictures exposed in gallery


Some pictures exposed in gallery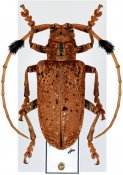 ---
---
Region
Distribution for Aristobia freneyi
---
---
1 taxon refers to Aristobia freneyi
Aristobia freneyi Schmitt, 1992

[ type locality : Thaïlande, Sansai Chiangmai ]
---
---
Bibliography
Some citations found in the bibliography excluding lists and catalogs except with nomenclatural act or illustration or data
Aristobia freneyi ; Jiroux & al. • Les Cahiers Magellanes • 2014 • ser. n.s., 14 : 89, 90 [ cit loc ill div ]

Aristobia freneyi ; Jiroux & al. • Les Cahiers Magellanes • 2014 • ser. n.s., 14 : 89, 90 [ cit loc ill div ]

General information

description ; distinctive characters
color photo, holotype, ♂ ; color photo, ♀

Distribution

Chine, Yunnan : Mont Daheishan 400/1000m, Mengma, Menglian County
Thaïlande : Maetang,Chiang Mai ; San Sai CM
Laos (Sud) : Mont Saravan, Saravan province
Cambodge

Aristobia freneyi Schmitt • Bull. Sciences Nat • 1992 • 75-76 : 28 [ nov loc ill div ]

Aristobia freneyi Schmitt • Bull. Sciences Nat • 1992 • 75-76 : 28 [ nov loc ill div ]

General information

description
color photo, ♀ ; color photo, ♂

Distribution

[locality type] Thaïlande : Sansai Chiangmai
Chine : Samoeng
Thaïlande : Lao Cay ; Khon Kaen
Cambodge
---
---
Some references with pictures to see in bibliography
---
---
10 specimens in author's collection
Datas on labels
Thailand • Chiang Mai, • 1♂ • 28.5 mm • v-2001 • lam.#15729
Thailand • Chiang Mai, 1200m • 1♂ • 28 mm • vii-1999 • lam.#13993
Thailand • Chiang Mai, San Sai • 6♂1♀ • 28.5-29 mm • viii-1984, viii-1992 • lam.#546, 547, 548, 549, 550, 584, 592
Thailand • Phrae • 1♀ • 27.5 mm • vi-2003 • lam.#14141
---