---
Page Content
Classification

Gallery

Region

Group

List of species

Taxa, synonyms

Bibliography
---
Lepturges (Chaeturges)
Lepturges (Chaeturges) is the scientific name of a group of Lamiinae -also called lamiines or flat-faced longhorned beetles-
---
Lepturges (Chaeturges) Gilmour, 1959
E. F. Gilmour is the author of the original taxon.
The type species is Lepturges inscriptus Bates, 1863.
Lepturges (Chaeturges) Gilmour, 1959 is the full name of the group-subgenus in the taxonomic classification system.
Lepturges (Chaeturges) has 20 species. The subgenus is a subdivision of Lepturges, genus ranked in the Acanthocinini tribe of Lamiinae.
---
Coleoptera
Cerambycidae
Chaeturges
kingdom
Animalia
~1,200,000 sp.
phylum
Arthropoda
~1,000,000 sp.
class
Insecta
~830,000 sp.
order
Coleoptera
~350,000 sp.
family
Cerambycidae
~40,000 sp.
subfamily
Lamiinae
19,959 sp.
tribe
Acanthocinini
1,969 sp.
genus
Lepturges
100 sp.
subgenus
Chaeturges
20 sp.
---
---
Some pictures exposed in gallery
Some pictures exposed in gallery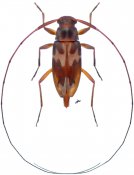 ---
---
Region
Distribution for species of Lepturges (Chaeturges)
---
---
Group
Chaeturges
Subgroup of
Subdivided into 20 species
---
---
1 taxon refers to Lepturges (Chaeturges)
Lepturges (Chaeturges) Gilmour, 1959 [ sp. type : Lepturges inscriptus Bates, 1863 ]
---
---
Bibliography
Some citations found in the bibliography excluding lists and catalogs except with nomenclatural act or illustration or data
Lepturges (Chaeturges) ; Audureau • Les Cahiers Magellanes • 2018 • 30 : 19 [ cit div ]

Lepturges (Chaeturges) ; Audureau • Les Cahiers Magellanes • 2018 • 30 : 19 [ cit div ]

General information

Lepturges (Chaeturges) ; Monné & Monné • Zootaxa • 2017 • 4299, 2 : 259 [ cit div ]

Lepturges (Chaeturges) ; Monné & Monné • Zootaxa • 2017 • 4299, 2 : 259 [ cit div ]

General information
---