---
Page Content
Classification

Region

Group

Gallery

Implemented key

List of species

Taxa, synonyms

Bibliography
---
Epidichostates
Epidichostates is the scientific name of a group of Lamiinae -also called lamiines or flat-faced longhorned beetles-
---
Epidichostates Teocchi & Sudre, 2003
Teocchi, P. & Sudre, J. are the authors of the original taxon.
The type species is Dichostates molossus Duvivier, 1892.
Epidichostates Teocchi & Sudre, 2003 is the full name of the group-genus in the taxonomic classification system.
Epidichostates has 2 species plus 1 non-nominal subspecies. The genus is ranked in the Crossotini tribe of Lamiinae.
---
Classification
kingdom
Animalia
~1,200,000 sp.
phylum
Arthropoda
~1,000,000 sp.
class
Insecta
~830,000 sp.
order
Coleoptera
~350,000 sp.
family
Cerambycidae
~35,000 sp.
subfamily
Lamiinae
20,056 sp.
tribe
Crossotini
397 sp.
genus
Epidichostates
2 sp.
---
---
Region
Distribution for species of Epidichostates
---
---
Group
Epidichostates
Subgroup of
Subdivided into 2 species
---
---
Last images posted online

…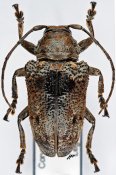 nop=0
---
---
Implemented key
Use key to determinate specimens
proposed key to select
a) Key to species adapted from (Breuning,1935),(Teocchi,2001) • not translated
possible resulting taxa
---
---
List of species
3 species and subspecies (2 species and 1 non-nominal subspecies)
Epidichostates molossus (Duvivier, 1892)

Cameroun, Centre, village de Mekak • 1♂1♀ • 17.5-18.5 mm • iv-2011 • lam.#16093, 16094

Cameroun, Ebogo • 1♂ • 20 mm • xi-2003 • lam.#16098

Cameroun, Menguémé • 1♂ • 15 mm • v-1998 • lam.#12701

Gabon, Parc National Ivindo, Ipassa • 1♂ • 18 mm • xi-2017 • lam.#19922

Congo-Brazzaville, Voka • 1♀ • 19.5 mm • v-1993 • lam.#9627

R. P. Congo, Voka • 2♀ • 15-19 mm • xi-1974 • lam.#12700, 13686

Epidichostates strandi strandi (Breuning, 1935)

Côte d'Ivoire, Akoupé, Alepe • 1♂ • x-1984 • lam.#3248

Côte d'Ivoire, Forêt de Banco • 1♂1♀ • 13 mm • xi-1987, xii-1987 • lam.#5027, 5028

Côte d'Ivoire, Sassandra • 1♀ • 17.5 mm • viii-1997 • lam.#3247

R. C. I., Adiopo • 1♀ • 15.5 mm • vii-1977 • lam.#12705

R. C. I., Adiopodoumé • 1♀ • x-1998 • lam.#12704

R. C. I., Forêt de Banco, • 1♀ • xi-1987 • lam.#12703

Togo, Kpalime (frontière du Ghana) • 1♂1♀ • 17.5 mm • iv-1988 • lam.#1296, 1297

Togo, Palimé • 1♂ • 17 mm • v-1990 • lam.#12702
---
---
1 taxon refers to Epidichostates
---
---
Some citations found in the bibliography excluding lists and catalogs except with nomenclatural act or image or data
Epidichostates Teocchi & Sudre • Les Cahiers Magellanes • 2003 • 20 : 18 [ nov div ]

Epidichostates Teocchi & Sudre • Les Cahiers Magellanes • 2003 • 20 : 18

General information

description ; distinctive characters
new taxon/name
---