---
Page Content
Classification

Region

Group

Gallery

Key to subgroups

List of species

Taxa, synonyms

Bibliography
---
Apomempsoides
Apomempsoides is the scientific name of a group of Lamiinae -also called lamiines or flat-faced longhorned beetles-
---
Apomempsoides Breuning, 1950
S. Breuning is the author of the original taxon.
Apomempsoides Breuning, 1950 is the full name of the group-genus in the taxonomic classification system.
Apomempsoides has 2 species. The genus is ranked in the Morimopsini tribe of Lamiinae.
---
Classification
kingdom
Animalia
~1,200,000 sp.
phylum
Arthropoda
~1,000,000 sp.
class
Insecta
~830,000 sp.
order
Coleoptera
~350,000 sp.
family
Cerambycidae
~35,000 sp.
subfamily
Lamiinae
20,053 sp.
tribe
Morimopsini
214 sp.
genus
Apomempsoides
2 sp.
---
---
Region
Distribution for species of Apomempsoides
---
---
Group
Apomempsoides
Subgroup of
Subdivided into 2 species
---
---
Last images posted online

…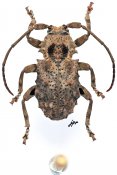 nop=0
---
---
Some keys and updates found in the bibliography
---
---
List of species
2 species
Apomempsoides parva (Aurivillius, 1910)

Cameroun, Mengueme • 1lam. • 8.5 mm • viii-1992 • lam.#12381

Gabon, Parc National Ivindo, Ipassa • 2♂1♀ • 6-7.5 mm • xi-2017 • lam.#19945, 19946, 19947

Gabon, Province de l'Estuaire, Forêt de la Mondah • 5♂4♀ • 6.5-8 mm • xi-2017, xii-2017 • lam.#19948, 19949, 19950, 19951, 19952, 19953, 19954, 19955, 19956

Gabon, Province de l'Estuaire, PN des Monts de Cristal, Station de Kinguélé • 3♂2♀ • 6.5-8.5 mm • xi-2019 • lam.#21463, 21464, 21465, 21466, 21467

datas on labels of lamiines in author's collection
---
---
1 taxon refers to Apomempsoides
---
---
Some citations found in the bibliography excluding lists and catalogs except with nomenclatural act or image or data
---