---
Page Content
Classification

Gallery

Region

Group

List of species

Taxa, synonyms

Bibliography
---
Ancylonotus
Ancylonotus is the scientific name of a group of Lamiinae -also called lamiines or flat-faced longhorned beetles-
---
Ancylonotus Dejean, 1835
P.F. Dejean is the author of the original taxon.
The type species is Lamia tribulus Fabricius, 1775.
Ancylonotus Dejean, 1835 is the full name of the group-genus in the taxonomic classification system.
Ancylonotus has 1 species. The genus is ranked in the Ancylonotini tribe of Lamiinae.
---
Coleoptera
Cerambycidae
Ancylonotus
kingdom
Animalia
~1,200,000 sp.
phylum
Arthropoda
~1,000,000 sp.
class
Insecta
~830,000 sp.
order
Coleoptera
~350,000 sp.
family
Cerambycidae
~40,000 sp.
subfamily
Lamiinae
19,972 sp.
tribe
Ancylonotini
150 sp.
genus
Ancylonotus
1 sp.
---
---
Some pictures exposed in gallery

Some pictures exposed in gallery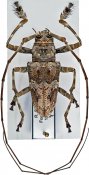 ---
---
Region
Distribution for species of Ancylonotus
---
---
Group
Ancylonotus
Subgroup of
Subdivided into 1 species
---
---
List of species
2 species and subspecies
Ancylonotus tribulus hieroglyphicus Fairmaire, 1895

Madagascar • 1♀ • 20 mm • lam.#5053
Madagascar • Moramanga • 1♀ • 26 mm • iii-2009 • lam.#12918

datas on labels of lamiines in author's collection

Ancylonotus tribulus tribulus (Fabricius, 1775)

Angola • Cabinda, Malongo • 1♂ • ii-1983 • lam.#5050
Cameroon • 2♀ • iii-2000 • lam.#5052, 10045
Cameroon • Kumba • 1♂1♀ • lam.#10041, 10042
Cameroon • Mt. Ngoekele • 1♂1♀ • v-1991 • lam.#1277, 1278
Central Africa R. • Bangui-Bimbo, 300m • 2♂1♀ • iv-1980, v-1981 • lam.#408, 409, 410
Central Africa R. • La Maboké • 1♂ • ii-1967 • lam.#3462
Gabon • Province de l'Estuaire, Forêt de la Mondah • 2♂ • 24.5 mm • xi-2017 • lam.#19856, 19857
Guinea • 1♂ • lam.#10037
Ivory Coast • 2♂ • 27 mm • x-1998 • lam.#3406, 3407
Ivory Coast • Adiopodoumé • 1♂1♀ • 31.5 mm • x-1999 • lam.#10040, 10044
Ivory Coast • Akoupé • 2♂2♀ • 28 mm • i-1990 • lam.#1309, 1310, 1312, 1314
Ivory Coast • Alepe, Mopodji • 1♀ • x-1985 • lam.#5051
Ivory Coast • Forêt de Taï • 2♂ • 26.5 mm • ii-1999 • lam.#10038, 10039
Ivory Coast • Lamto • 1♀ • lam.#10043
---
---
1 taxon refers to Ancylonotus
Ancylonotus Dejean, 1835 [ sp. type : Lamia tribulus Fabricius, 1775 ]
---
---
Bibliography
Some citations found in the bibliography excluding lists and catalogs except with nomenclatural act or illustration or data
---